Our proprietary Duration-Driven® Methodology is what distinguishes us from other companies. It is the foundation of our success and essential to the continuing success of all the projects we support. In his ground-breaking book, The Mythical Man-Month (1975), Frederick Phillips Brooks identified the importance of duration-based planning to achieve successful projects. He observed that:
"Our duration estimations confuse effort with progress; hiding the wrong assumption that men and months are interchangeable". 
-Frederick Phillips Brooks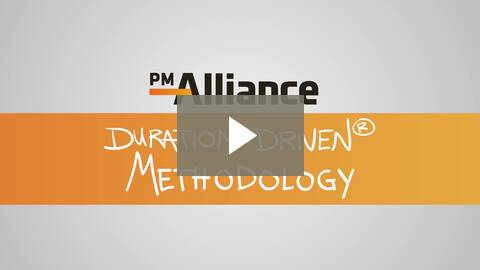 Duration-Driven® Principle 1: Time Matters
Almost all projects have deadline dates and if those deadline dates are missed the project will not be a success and along the way budget and quality will most likely be sacrificed. The core of PMAlliance's Duration-Driven® methodology is based on the idea that, the time dimension of projects must be managed to achieve success.
Duration-Driven® Principle 2: Duration-Based Estimates
In order to manage the time dimension of projects, we must have duration-based estimates from team members; this includes estimates to perform their future activities within a specified duration and estimates to finish their in-progress activities by a specific date. There are decades of anecdotal data demonstrating that obtaining team member commitment is the key to project success. Therefore, we must also have a process that drives team member commitment to the duration-based estimates used in the project plan.
Duration-Driven® Principle 3: Appropriate Tools
Many popular project management tools and methodologies can actually impair a team's ability to create the types of commitments necessary for success. For example, communication of "hours of effort" does not represent a commitment on the part of a team member to complete an activity within a specified amount of time; sophisticated calculations of activity durations by project management software tools do not drive accountability on the part of the team members; and ambiguous estimates of percent complete do not represent a promise on the part of a team member to finish by a certain date.
Summary
PMAlliance's Duration-Driven® Methodology allows project teams to obtain time-based commitments from team members, incorporates those commitments into a dynamic, network-based project plan with a calculated critical path, creates a framework for compressing project durations to meet deadline dates in a way that maintains team member commitment, and then tracks progress over the life of the project and continually reconfirms team member commitment towards meeting the project deadline date. Through PMAlliance's Duration-Driven® Methodology, team members operate in a project environment that is more likely to result in success.
There are all kinds of problems that can stand in the way of a successful project. Schedule delays. Changing priorities. Uncontrolled spending. Resourcing challenges. Overworked employees. Any one of these is enough to sink your entire project. But when you add PMAlliance's project management consulting experts to your team, you've got knowledgeable professionals onboard who can help keep your project on course.
Whether you bring us on board for project management consulting on a specific project, to provide in-house project office development, or to deliver project management training to your staff-together we can develop project management planning and control techniques that deliver successful projects. Our complete range of project management consulting services allows us to offer customized, flexible solutions-and the project management software necessary to implement them. Every service we provide is supported by our unique Duration-Driven® project management methodology.
Up Next: Learn About Implementing our Duration-Driven Methodology
PMAlliance, Inc offers project management consulting, project management training and project portfolio management services.